Wen Ukraine Airdrop? — #8
With the war in Ukraine raging full-scale, and an increasing amount of donations in crypto, what better way to show appreciation to the donors than a good ol' airdrop! In fact, that will raise even more funds for Ukraine, what an ingenious idea! Or maybe not…
Welcome back to ART HAUS Weekly Blurb. For those who are new here, we send out weekly newsletters summarizing key events in the web3 world, so you can stay up-to-date. Do subscribe to the newsletter if you haven't already, after all, it's free!
Without further ado, let's get right into the happenings this week.
Games In the Haus!
At the start of this week, we launched our very first Gnars game, Grinderz!
Grinderz is a skateboarding-style mini-game, where you can battle it out for ETH prizes every week! Grinderz is fully CC0, so you may see some Gnar-ish stickers here and there.
So far, the mini-game is only available for PC, and you'll need a Gnar in your wallet to play. It seems like some people are already grinding hard on the game… I guess Grinderz is an apt name!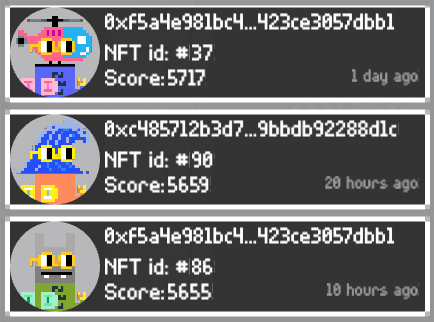 So… what are you waiting for? Visit our auction site to grab your Gnar, while you can!
Once again, you can take advantage of our "Skate or DAO" slider, and delegate as much as you want to charity. These funds will be dedicated to helping skateboarders and athletes in general through their sporting journeys. Our first Nouns Grant has already gone to Joe Atkinson, who will be next?
Stay up to date on all things Gnars by following our Twitter!
News Of The Week: The Ukraine Airdrop… That Never Was
A few days ago on 2nd March, the official Ukraine page tweeted "Airdrop confirmed. Snapshot will be taken tomorrow…".
This spiraled in a frenzy of donations to Ukraine's publicly announced ETH wallet, in hopes of getting an airdrop for donating.
However, this never came to pass, after Ukrainian Vice Prime Minister Mykhailo Fedorov tweeted that the Airdrop was "canceled", and NFTs would be issued to support Ukraine's war effort instead. So WTF happened here? Let's find out.
Buying The Rumor
Well, it all started with the mint of WORLD tokens. The Peaceful World tokens (WORLD) were minted by an unknown address, and these tokens were sent to Ukraine's official Ethereum wallet.
This, complemented by Ukraine's tweet of an "Airdrop Confirmed", prompted some people to believe that WORLD would be airdropped to them if they donated. But Ukraine never officially legitimized WORLD, and neither did it mint the original tokens. It was clearly the work of a third party here. Motive, unknown.
This tweet resulted in a wave of "micro-donations" to Ukraine's Ethereum wallet, with many addresses donating "0.001/0.01 ETH" to their address, probably in hopes of getting airdropped some WORLD.
Well, donations soared over 50% day-on-day due to this announcement, and in total, more than 15 million dollars worth of crypto had been donated to Ukraine. Still, 95% of the funds sent were "micro-donations".
Selling The News
And so, when Ukraine announced that there wouldn't be an airdrop, well, the situation was awkward. While Ukraine publicly confirmed their airdrop, they did not specifically state how to be part of it.
At the end of the day, those who "donated" those 0.001 ETH micro-sums really deserve it. It's shocking to see how some people donated just for the returns it could reap them, and not because they genuinely want to help Ukrainians. Furthermore, this probably drove up Ethereum's gas prices at that point, potentially causing others to pay more for minting fees of Gnars!
In all seriousness, we should take this as a lesson to learn… airdrops are just a bonus, they should not be taken for granted. Let's work towards making the crypto community more genuine and helpful.
News Daily
28.2.2022
Would you buy an NFT… of yourself? Well, a Dutch Artist has just created the NFT for you… but not really. With the CryptoGreyman collection of close to 8 Billion NFTs, the art, color, and rarity are all the same, the only difference between each NFT in this collection is their number.
Do take a look at this article to find out why Dadara made this "one-of-a-kind" collection!
01.3.2022
Minecraft could be the most successful metaverse ever. But since it's not built on the blockchain, it stays a game, not a metaverse. NFTWorlds is here to change that. They plan to build a metaverse which is essentially Minecraft, built on Polygon, and turn it into a Minecraft-inspired ecosystem (with more features).
Do give this piece a read if you're a huge Minecraft fan.
02.3.2022
UkraineDAO, jointly created by PleasrDAO, Trippy Labs, and Pussy Riot, have raised around $7 million to support Ukraine's war efforts. They initiated an auction for a 1/1 Ukrainian NFT Flag, and all the proceeds have been donated to Ukraine's official wallet.
Below is an overview of UkraineDAO.
03.3.2022
Metamask, one of the most popular crypto wallets for tokens like ETH and BNB, has started banning Iranian IP addresses from accessing their wallets. Their reason for doing this is due to "legal compliance" reasons.
For me, this raises the question of whether Metamask truly provides a decentralized service to users. Read on for the full story.
04.3.2022
Zora is a unique blockchain protocol that serves as an NFT marketplace, made for the benefit of creators. With the power of web3 and Zora steering in that direction, they could play a huge role in the NFT marketplace space in the near future.
If you didn't know, our collection at ART HAUS is curated on Zora as well! This article provides an in-depth take on what Zora is about… it definitely deserves a read!
05.3.2022
Lil' Hippos, an NFT collection made by Rundown Media, has been accused of stealing artwork from a limited collection, Hip Hop Hippos. With only 26 NFTs in Hip Hop Hippos, they accuse Lil' Hippos of "sniping artwork" from their collection, and with its launch coming up on 8th March, FUD is starting to set in…
Do read on to find out both sides of the story.
06.3.2022
While governments around the world are scrutinizing cryptocurrencies and NFTs, blockchain tech seems to be welcomed by most. Perhaps it's because of the endless utility of blockchain, that businesses can undoubtedly benefit from.
This opinion piece goes in-depth on how blockchain can create value in our economy… it's an insightful piece indeed!
Podcasts: Worth A Listen
Web3 is the space that blockchain works in, and developers will be at the forefront of web3 developments and innovation. In this podcast episode, Delphi Digital is joined by Nader Dabit, a Developer at Edge & Node, discussing the difference between developing web2 and web3 programs.
They talk about the introduction of web3, how people in the web2 space are embracing web3 technology, and dealing with developments in the web3 arena. For those who are interested in the tech side of web3, this episode shouldn't fail to intrigue you!
Andrew Yang, a political activist and entrepreneur, joins gmoney on this podcast episode today. They discuss the progress on his DAO, Lobby3, which aims to "bring the voice of web3 to Washington DC".
The podcast episode is focused on how web3 and blockchain tech can help the poor in society, and how governments can aid societies by using this revolutionary technology. What an inspiring episode to listen to!
Godmin, the creator of NFT collection and software Heaven Computer, jumps in on the PROOF podcast in this episode. Heaven Computer is a project to appreciate both the OG aspect of web1, and the revolutionary tech of web3, aiming to bridge both versions of these into a WorldWideWeb.
In this episode, they discuss the bridge Godmin has created between web1 and web3, along with highlighting their NFT collection which has been minted and listed on OpenSea.
Do check this episode out to find out more about Heaven Computer.
Twitter Feed
Wrap Up
And that's it for this week's blurb! I hope you enjoyed this summary, and apologies for the lack of articles this week on the Haus… our writers(myself included) have been pretty busy with IRL stuff. More pieces coming next week though, stay tuned for that!
Follow Our Socials
Twitter: @artdothaus
Discord: ART HAUS
Website: Art.Haus