Should You Ape Into ApeCoin? — #11
It's official: BAYC has launched its very own token, $APE. Announced just a few days after their acquisition of CryptoPunks and The Meebits from Larva Labs, Yuga Labs has been making the FP of BAYC go wild…
Welcome back to ART HAUS Weekly! The Ethereum NFT ecosystem has been going crazy this week, accelerated with the launch of ApeCoin. I guess, where utility meets NFTs, the community goes wild. Anyway, do keep up to date by following our Twitter, more stuff coming to ART HAUS soon!
And now, let's get on to the news.
Haus-Recap
It's been a pretty muted week in the Haus. And since we're already on a double-digit unit, why not walk down memory lane a bit?
If you've been here since the beginning, ART HAUS WKLY did not start on Substack. Yes, we only migrated to this wonderful platform from the fourth unit, what a shame…
And of course, Gnars! Officially launching on 16th Feb, 666pm UTC, we had great support from the CC0 fam and NFT communities also in the Nounish ecosystem.
Since then, we've come a long way; over 200 Gnars in a blink of an eye!
More recently, all eyes have turned to the devastating situation in Ukraine. In dark times, however, crypto has shown the world that decentralization and P2P transfers can help people in times of crisis.
And now… ApeCoin, which we will be discussing in a few. It's been a rollercoaster of a quarter, and I'm not just talking about the crypto markets!
For the next quarter of 2022, we have big plans. Big, big plans, that Gami has shared with myself and the Gnars fam. Stay Gnarly, it's gonna be awesome.
News Of The Week: ApeCoin — What Is It And Should You Ape?
Officially launched on 17 March this week, ApeCoin is a new token created by Yuga Labs, native to the BAYC ecosystem. Headed by a core team of 5 experts in the Crypto, NFT, and web3 spaces, $APE hopes to serve as a native token for community-based web3 projects.
ApeCoin DAO is in charge of the governance of the ApeCoin community. Anyone who holds $APE becomes a member of the DAO. While ApeCoin is affiliated with Yuga Labs and therefore the BAYC ecosystem, anyone can join the community by getting $APE on multiple exchanges.
$APE Launch: What A Mess!?
ApeCoin was hyped in the NFT community for a multitude of reasons, yet their launch didn't go the smoothest. Launching at a value of 1 $APE equal to roughly $20, the price of $APE surged to around $39+, before sinking all the way down to sub-$7 levels. It's currently trading at $11.51.
So why did $APE turn out this way? Let's break down some of the factors.
Justified Hype
I can confidently say that the space was hyped on $APE. Being backed by influential NFT-goers in the space is one thing, but immediately being available on almost ALL the biggest crypto exchanges is something to shout about.
Binance.US
is excited to announce that we are listing ApeCoin $APE tomorrow!
@apecoin
More details to come.

Introducing ApeCoin ($APE), a token for culture, gaming, and commerce used to empower a decentralized community building at the forefront of web3. 🧵
Essentially, Yuga Labs and the team behind ApeCoin had everything covered; from expertise to connections. And this meant that people were bullish on $APE, for good reason. To be completely honest, I myself was considering to ape into $APE.
The "Airdrop" Fail
One key part of the ApeCoin project would be its "Airdrop" feature. Commonly used as a marketing tool or reward to those active in a specific ecosystem, the founders of ApeCoin decided to distribute 150 million $APE to existing BAYC and MAYC holders.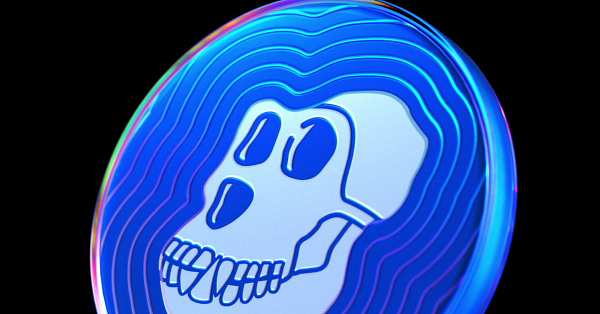 apecoin.com
Claim ApeCoin
Claim ApeCoin for your BAYC or MAYC NFT. 100 million tokens are claimable by BAYC and MAYC NFT holders for 90 days upon the launch of ApeCoin.
A total of 380 million tokens would go to Yuga Labs, Launch Partners, the founders of BAYC, and charity. And the remaining 470 million tokens will be reserved for the DAO (where people can purchase).
Now these percentages seem perfectly fine… until we consider the lockup period.
There was a "Lockup period" on all $APE, except 117.5 million tokens from the DAO, 10 million tokens for launch contributors, and ALL of the tokens airdropped to BAYC/MAYC communities. Now that's, where the problem lay.
With over 50% of $APE initially tradeable in the hands of BAYC/MAYC holders, who received $APE for FREE, $APE's fate was sealed. FOMO kicked in, making outsiders buy $APE and pushing up the price… and some BAYC/MAYC holders subsequently claimed their drop, dumping their tokens for a sweet few thousand.
So, Is $APE Still Worth A Play?
While the initial launch turned out a disaster for those who "bought early", I do believe that $APE still has hope for a better future. After all, they do have strong backings from various institutions, experts creating a solid DAO, and influential members willing to adopt $APE.
As an investment, it is difficult to say which way $APE will go from here. Volatility is high, and the crypto market is still in recovery. If you're in it for the long haul, it could be a chance to get some ApeCoin. What say you?
News Daily
14.3.2022
Both Microsoft and GameStop are making big moves into the gaming universe. Following news of the partnership between GameStop and Immutable X, there are high hopes for Microsoft to join this endeavor as well. Since Microsoft's controversial acquisition of Activision Games, rumors of a Microsoft-GameStop partnership are only growing stronger…
More details in the article below!
15.3.2022
Mark Zuckerberg recently announced at the SXSW conference that NFT profiles could come to Instagram soon. Following in the footsteps of Twitter, he says that NFTs aren't just going to be on display as a PFP, but minting them on Instagram could be a possibility?
If this comes to pass, it will be crazy. Mainstreaming NFTs to the future generations.
16.3.2022
DappRadar has just released another highly detailed NFT report for the month of March, and it features three Ethereum NFT projects. Invisible Friends, 3Landers, and Tubby Cats have seen amazing sales and growth since their mint, their FPs far from mint price.
Do have a read to find out about these awesome projects.
17.3.2022
SolStarter, supposedly the first IDO of the Solana blockchain, has been accused of farming engagement (in the form of retweets, likes, etc.) to boost "community engagement". This follows a tweet from "on-chain sleuth" Zachxbt, tweeting how SolStarter is farming likes to artificially boost perceived popularity.
18.3.2022
CyberKongz, an Ethereum NFT project that unexpectedly gained hype about a year ago (all organic), is working on an initiative into the mixed martial arts world. They are on track to hosting martial arts-related events this year, and plan on sponsoring MMA fighters as well.
Full story in the piece below.
19.3.2022
Another day, another scam. Rare Bears is an Ethereum NFT project with decent success, but its Discord got hacked just a few days after mint. The scammer posed as a Moderator of the group, and was able to get away with nearly 300ETH from gullible NFT "investors".
What really happened is all covered in this article.
20.3.2022
Scammy crypto ads… they're part and parcel of our free and decentralized web3 space. But now Meta (a.k.a. Facebook), has been pushing out fake cryptocurrency scam advertisements on their platform, and now, Australian regulators are filing a lawsuit against Meta.
Full story in the article below.
Art Haus Blog Releases
ApeCoin has been the talk of the town this week. But that shouldn't obscure the major merge that took place in the BAYC Universe: Yuga Labs acquiring CryptoPunks and Meebits from Larva Labs.
On 12 March 2022, Yuga Labs announced that they would be taking over the CryptoPunks and Meebits projects. Their acquisition of these projects also came with a few hundred CryptoPunks and more than a thousand Meebits. In essence, a multi-million dollar deal.
But under the surface, this also means a whole lot more for the CryptoPunks and Meebits communities. Previously, Larva Labs didn't distribute I.P. rights to holders of Punks and Meebs… but BAYC is planning to change that.
In this article, we go through an acquisition analysis of CryptoPunks, and what this means for the future of the BAYC ecosystem.
Podcasts: Worth A Listen
Beryl Li, co-founder of Yield Guild Games (YGG), joins the Zima Red podcast for a discussion on Play-to-earn games. YGG is an example of a successful P2E game, which has captured the essence of what a P2E blockchain game should be.
In this episode, Beryl shares her experience working in top-tier financial institutions like Blackrock, and how the inspiration for YGG came about. They also discuss the future of YGG and how the team plans to scale the game and be the leading P2E in the metaverse. A great listen for blockchain gamers!
Sahil Bloom, an active web3 investor, sits down for a talk at the Delphi Digital Podcast. They mainly talk about investing in the web3 space, governance and ownership, the web3 community, and just touching on NFTs.
Specific case studies include XGamesDAO(headed by Sahil), and governance on platforms like Reddit. They also discuss what to focus on in the web3 space, especially since investing requires a careful selection of projects.
For a great conversation on all things web3, this episode is one for you!
Derek Edward Schloss, partner at Collab+Currency and NFT enthusiast, joins the PROOF podcast. Derek is big on digitally scarce objects, which have existed for years before blockchains and NFTs, and he has pinned a thread on some of these scarce items.
In this episode, they discuss why and how digitally scarce collections have value, especially in the context of NFTs. There's also some Alpha for all, NFT collections to look out for in the future. Do you find the concept of scarcity interesting? Then this episode could be worth a listen.
Twitter Feed

Wrap Up
And we've come to the end of this week's blurb. Hope you have enjoyed that earlier recap on the year so far in ART HAUS, perhaps another one at the end of the next quarter?
Do stay tuned for more info on Gnars, some insane updates and announcements coming soon…
Follow Our Socials
Twitter: @artdothaus
Discord: ART HAUS
Website: Art.Haus